Classic Signs
The signs we make at Mystic Blue Signs reflect a sophisticated community with a strong sense of its own tradition. Customers usually ask us to create the designs, and we have revived lost traditions like curled metal and turn-of-the-19th century styles to express the diverse flavors of the New Orleans area.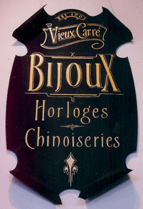 The signs in our portfolio were made by proprietors Yvette Rutledge and Vince Mitchell with the same materials and techniques used by the great sign and graphic artists whose work inspired us to become lettering artists.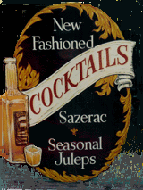 Please contact us for more information about making an old-fashioned or vintage sign like this for you.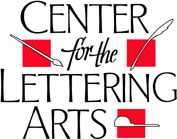 Center News: § Mardi Gras! §


Font Club
Font Club will have our first meeting for the new year on Saturday, February 21st. Details on our presenter for this meeting will be posted soon.
Font Club is a free informal group that meets on the 3rd Saturday of every month to work on typeface design. We usually have a presentation followed by a work session designing, scanning and importing glyphs into FontLab or Fontographer to create a typeface. Call Vince or Yvette at (504) 525-4691 for more information or if you have any questions.
AIGA New Orleans
Visit www.aiganeworleans.org for graphic design info, events, and meetings in New Orleans.

NOLAA
New Orleans Lettering Arts Association will meet on Saturday, November 8th, at St. Francis Xavier from 10am to 1pm. NOLAA is a non-profit organization whose monthly meetings are mini-workshops in a variety of calligraphy techniques, well worth the $25 per year membership fee. Meetings are held on the 2nd Saturday of the month. Visit www.neworleanscalligraphy.org for more information.
NOLA School of Art & Crafts
The New Orleans School of Art and Craft offers classes in all styles of art-making, including calligraphy. They can be reached directly at (504) 944-7900. For more info visit www.NOLAArtandCraft.com

Photography by Claire Hassig
We are proud to have an exhibit of Claire's photographs in the gallery. The images present the abandoned structures of the former Six Flags Amusement Park, altered through her unique perspective.
©2014 Mystic Blue Signs tel: (504)525-4691 email: mysticbluesigns@hotmail.com
Webdesign by ESP: Espèce d'Idiot Productions