Gold Leaf Signs
We use traditional surface gilding in classically simple and creativley unorthodox contexts, adding leaf as a shiny playful accent on a graphic illustration, or as a border on the edge of a Chinese calligraphic symbol (like the gilded edge of a book page) - wherever it feels right!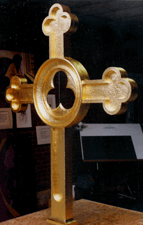 (504)525-4691

Center News: § Mardi Gras! §


Font Club
Font Club will meet Saturday, February 20th at 3pm. This meeting will be a work session. Font Club is a free informal group that meets on the 3rd Saturday of every month to work on typeface design. Call Vince or Yvette at (504) 525-4691 for more information. www.fontlab.com § forum.fontlab.com
AIGA New Orleans
Visit www.aiganeworleans.org for graphic design info, events, and meetings in New Orleans.

NOLAA
The New Orleans Lettering Arts Association (NOLAA) will meet November 14th at 9:30am at the North Kenner Branch Library (630 W. Esplanade Ave., Kenner). Vince Mitchell and Yvette Rutledge of Mystic Blue Signs will give a hands-on study of blackletter.
NOLAA meets on the 2nd Saturday of the month. NOLAA is a non-profit organization whose monthly meetings are mini-workshops in a variety of calligraphy techniques, well worth the $25 per year membership fee. For more information visit www.neworleanscalligraphy.org

©2016 Mystic Blue Signs tel: (504)525-4691 email: mysticbluesigns@hotmail.com
Webdesign by ESP: Espèce d'Idiot Productions