Calligraphy
Here are some wonderful samples from lettering artists Yvette Rutledge and Vince Mitchell.
Most of the work you see here is Yvette's commissioned work. Her forte is original letterstyles, and her published work is in collections all over the world such as the court seal, a retirement gift for a judge in Washington D.C., to calligraphy for a book by Barry Moser's Pennyroyal Press. Yvette is an accomplished calligrapher and teacher.
Vince still studies and learns much from Yvette's work and has gone on to be a continuing student and teacher of blackletter/gothic scripts. Vince's work is the last row, showcasing his new comic series exclusively done in blackletter.

If you are interested in a hand-lettered design or addressed envelopes for your wedding, stationery, or special occasion, please contact us at the email or phone number below for prices tailored to your particular event. We look forward to doing a special handlettered piece for you!

Contact Info:
mysticbluesigns@hotmail.com
(504)525-4691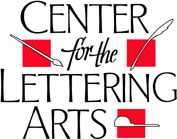 Center News: § Happy Fall §


Font Club
Font Club will meet Saturday, October 17th at 3pm. This meeting will be a work session. Font Club is a free informal group that meets on the 3rd Saturday of every month to work on typeface design. We usually have a presentation followed by a work session designing, scanning and importing glyphs into FontLab or Fontographer to create a typeface. Call Vince or Yvette at (504) 525-4691 for more information.
AIGA New Orleans
Visit www.aiganeworleans.org for graphic design info, events, and meetings in New Orleans.

NOLAA
The New Orleans Lettering Arts Association (NOLAA) will meet October 10th at 9:30am at the East Jefferson Regional Library (4747 W. Napolean Ave, Metairie). NOLAA president Debbie Fleming will review Italic calligraphy.
NOLAA meets on the 2nd Saturday of the month. NOLAA is a non-profit organization whose monthly meetings are mini-workshops in a variety of calligraphy techniques, well worth the $25 per year membership fee. For more information visit www.neworleanscalligraphy.org
NOLA School of Art & Crafts
The New Orleans School of Art and Craft offers classes in all styles of art-making, including calligraphy. They can be reached directly at (504) 944-7900. For more info visit www.NOLAArtandCraft.com

Photography by Claire Hassig
We are proud to have an exhibit of Claire's photographs in the gallery. The images present the abandoned structures of the former Six Flags Amusement Park, altered through her unique perspective.
©2015 Mystic Blue Signs tel: (504)525-4691 email: mysticbluesigns@hotmail.com
Webdesign by ESP: Espèce d'Idiot Productions