Gold Leaf Signs
Few artists still take the trouble to use traditional techniques and real gold leaf, but the beauty of burnished gold on glass is extremely rewarding. Done on the inside of the glass, with sheets of 23kt gold leaf, this time-consuming process achieves an inspiring effect.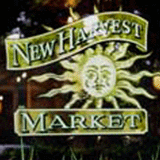 Two-tone gold letters can be rendered with color for opulent or sophisticated designs.

Center News: § Festival Time! §


Font Club
Font Club will meet April 19th, Saturday at 3pm. This Font Club meeting will have a presentation by stationer, graphic designer and teacher Nancy Collins on monograms. Nancy recently published The Complete Engraver, and has taught graphic design at Loyola University and Delgado Community College in New Orleans. She does workshops at Hermann-Grima House, and is also director of special projects for AIGA New Orleans. From 1978 to 2004, Nancy owned and operated the graphic design firm Nancy Feldman studio in New York City with clients that included Waterford Wedgewood, Clinique, Revlon and the Museum of Modern Art. Visit her website at www.nancy sharoncollinsstationer.com
After the presentation there will be a work session designing, scanning and importing glyphs into FontLab or Fontographer to create a typeface. Call Vince at (504) 525-4691 for more information or if you have any questions.
Font Club normally meets on the 3rd Saturday of the month. Also you can visit www.aiganeworleans.org for graphic design events and meetings in New Orleans.
NOLAA
NOLAA is a non-profit organization whose monthly meetings are mini-workshops in a variety of calligraphy techniques, well worth the $25 per year membership fee. Meetings are held on the 2nd Saturday of the month. Visit www.neworleanscalligraphy.org for more info.
NOLA School of Art & Crafts
The New Orleans School of Art and Craft offers classes in all styles of art-making, including calligraphy. They can be reached directly at (504) 944-7900. For more info visit www.NOLAArtandCraft.com
Photography by Claire Hassig
We are proud to have an exhibit of Claire's photographs in the gallery. The images present the abandoned structures of the former Six Flags Amusement Park, altered through her unique perspective.
©2014 Mystic Blue Signs tel: (504)525-4691 email: mysticbluesigns@hotmail.com
Webdesign by ESP: Espèce d'Idiot Productions