WWNO 89.9 FM
Yvette was interviewed for All Things New Orleans (a WWNO radio talkshow) by Joe Shriner on various subjects concerning sign painting and hand lettering in New Orleans. You can listen to it at this link: NolaVie.com
New York Times
We were mentioned in Seth Kugel's informative and kind New York Times Frugal Traveler's blog on New Orleans. You can view it at this link: NYTimes.com Blog
Center News: Bonnes Fêtes!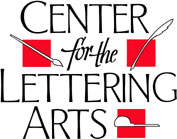 The Center for the Lettering Arts was established in 2010 as a resource to encourage the use of hand lettering as an expressive art, and to promote its use through collaboration in graphic design and printing. ⚜ We offer classes and workshops in hand lettering, organize lectures and workshops for student groups and host exhibits in our gallery.


Hand-writing demo by Yvette at WWL Channel 4 for National Hand-Writing Day.

Font Club
Font Club will meet on Saturday, January 19th, 2024 at 3pm for a work session on type design. We meet the 3rd Saturday of every month. For more info: call Vince or Yvette at (504)525-4691
AIGA New Orleans
Graphic design info and events neworleans.aiga.org
NOLAA
New Orleans Lettering Arts Association has workshops in a variety of calligraphy techniques www.neworleanscalligraphy.org
New Orleans Academy of Fine Arts
NOAFA offers art classes including calligraphy www.noafa.com
©2024 Mystic Blue Signs tel: (504)525-4691 email: mysticbluesigns@hotmail.com
Webdesign by ESP: Espèce d'Idiot Productions